WEEK IN REVIEW (VIDS GALORE)
What a wild week! In case you missed anything due to world events and/or your busy schedule here's a recap:  Tim and Eric's Go Pro Show  Entire series is now up!!  Tim and Gelman Have Lunch (Again)  All 4 parts!  Eric Wareheim and Doug Lussenhop's "Backpacker Bush" Music Video Doug Lussenhop's "Pound House" Episode One Hope you enjoy...
Tim and Gelman Have Lunch (Again) Finally...
It's been a long time coming, and I apologize for the delay, but it's finally here, in 4 parts. Watch all at once or space them out. Please share and try and watch on a TV!! 
Tim And Eric's Go Pro Show
A new episode every day this week! Please share! 
THANK YOU FOR WATCHING SEASON 2 OF "ON CINEMA AT...
It's been an honor. 
ON CINEMA AT THE CINEMA REVIEWS "A GOOD DAY TO DIE...
WOW! 2 FIVE BAGGER POPCORN MOVIES THIS WEEK! 
ON CINEMA IS BACK!!
Season Two begins with new reviews of "Side Effects" and "Identity Thief" Watch this show each week with your family. 
BOB DYLAN'S SUPER BOWL HALFTIME SHOW LEAKED
Here it is. My 4th Annual Super Bowl Half Time Show song leak. This one is from none other than Bob Dylan, who is replacing Beyonce who dropped out after her inauguration lip synching scandal. "Running Out The Clock" is a previously unreleased song from Dylan's 1983 "Infidels" album. I guess it makes sense… the football metaphors and references. I hope you...
BANANA PRANK →
Just some fun with DJ Douggpound at LAX.
Happy NUDE Year
Wanted to share with you this true story:  Last night my wife and I went out for a small, nice New Year's Eve dinner with some close friends.  We had a great meal, and some good wine. It was a nice, adult evening and we were home in bed by 12:30! (not exactly and all nighter, haha)  I woke up this morning, a little hungover and hungry so I got out of bed and headed for my dresser to put...
THANKS FOR A GREAT YEAR! AND HERE'S TO ONE MORE!
Hi friends.  Just wanted to take a moment and thank you all for your support this past year. It was a weird one! Lots (too much) promotion I know… Tim and Eric's Billion Dollar Movie finally stormed out of the gate way back in March.  Eric and I ended up doing so many interviews I thought our heads would explode!   (thanks to @thatSLAYERchick for this compilation!) As with just...
I AM NO LONGER THE EDITOR-IN-CHIEF OF ROLLING...
I write this from a cafe down the street from Rolling Stone Headquarters… About 15 minutes ago I was escorted out of the building after being fired without explanation or reason although I can assume it had a lot to do with my public announcement of the TV Guide merger, which I guess is now off the table???? [[MORE]] During my brief tenure as EIC of Rolling Stone I think I had a chance to...
MY ROLLING STONE KEYNOTE ADDRESS (VIDEO)
Last night I had the honor of speaking at the LA Food Bank Charity Event. I spoke about my plans for the Future of Rolling Stone. (also stay tuned for a surprise ending!) Looking forward to hearing your thoughts!  FULL TRANSCRIPT OF SPEECH [[MORE]] Thank You Scott.  Good Evening Ladies and Gentleman and thanks for having me at this really wonderful and very funny event… I'll tell ya -...
A FEW WORDS ON MY NEW JOB AS EDITOR-IN-CHIEF OF...
Friends, Today begins a new chapter for me and my family. It's hard to imagine that this long time subscriber to one of the most influential and respected music & cultuer magazines is now it's EDITOR-IN-CHIEF!!! Many have asked why!  [[MORE]] - I love music as well as films and pop culture.  - Time Warner (the owners of the magazine) were looking to shake things up and bring...
ON CINEMA AT THE CINEMA PREMIERE EPISODE
Bit of a surprise eh? I was going to tease this a bit before it "aired" but here we are… I hope you enjoy it. A new one each week! 
DONATE TO THE RED CROSS AND GET A PERSONAL REVIEW...
UPDATE: this fundraiser has now ended. But we raised a ton of cash - and now Gregg and I have to record all of your reviews! Thanks so much for donating… And reviews will be in your inbox early next week! [[MORE]]  Email your $50 Red Cross Donation receipt along with your favorite movie to dinnerheads@gmail.com and me & Gregg Turkington will send YOU a personal review!  It's as...
HGH PART II (PRANK CALL)
The HGH people called again and I just happened to be at my desk with a recording device. A minor work, but would be fun to see this one animated!  NOW WITH VIDEO FROM KRISSEY RUBIN!!!! 
"THE COMEDY" IS NOW READY FOR YOU
Hey Friends*  As you probably know a film called The Comedy that I acted in is now available to watch on iTunes, Video on Demand,  and other digital means  - you know it if you got it.  Here's a few things to know/think about:  1. If you live in one of these cities go see this movie in The Movie Theater! Make a night of it! I'm telling you it's a beautifully shot film and...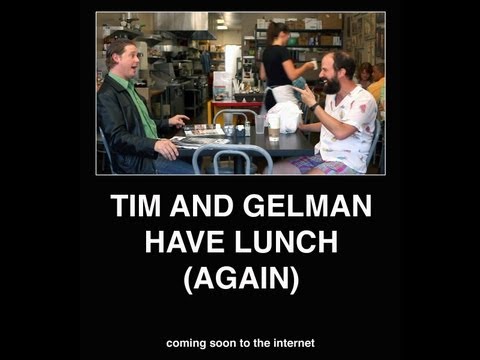 Doug and Tim's "Montblanc" →
When one man desires a high quality pen another man is always there to sell him one. Short film written and directed by Tim Heidecker and Doug Lussenhop, filmed ENTIRELY in Melbourne, Australia. 
The Official Trailer for The Comedy is Here! →
TEMPEST BONUS TRACK: LONG BLACK DRESS
Having now had some time to listen to Bob's latest "Tempest" I wanted to try recording something that sounded like a track from the record. 
"TITANIC AND OTHER SONGS" RELEASED ON VINYL...
Titanic and Other Songs will be out as a limited-edition, vinyl only release on September 10th on Orion Read, one day before Dylan's own "Tempest." The album also includes a cover of Dylan's "All the Tired Horses" (1970), along with previously unreleased songs inspired by: the failed sequel to suburban biker movie, Wild Hogs (2007), life at home, an assignment from a friend, and fear...
WHY THE OLYMPICS MATTER
This morning as I worked in my haor I began to ponder this question: Why do we have Olympics? It's a good question, because the answer is not immediately predetermined to that. But what is the reason for these games, because they are games and would determine if that's the way COUNTRIES do play them.  [[MORE]] Olympics tradition began because of the original Greece where it was...
ON CINEMA PRESENTS: MOMENT BY MOMENT
Join me and my frequent On Cinema guest Gregg Turkington as we screen this lost gem at one of Los Angeles' premiere downtown theaters!  http://www.brownpapertickets.com/event/262827
Tim and Gelman Have Lunch (Again) Poster
Bob Dylan's "Titanic" by Tim Heidecker
Recently, I read that Bob Dylan's new album Tempest will feature a 14 minute song about the Titanic.  [[MORE]] So I wrote this song to see if I could beat the Master to it. I can't wait to see how close I got to the real thing!  Here's a taste:  and here it is (all 15 minutes of it) for $.99 Buy Now and finally here's the video edited by Krissy Rubin:  thanks for...
LIVE TWEETING THE BRAND X PANEL AT COMIC CON
SUNDAY, JULY 15th 2012 SAN DIEGO CONVENTION CENTER COMIC CON 7:53AM - here early for #brandx panel. No line. Alone. Hope I got the time right.  8:00AM - Ok a volunteer just confirmed: this is the right place to be for #brandx panel - me and one other man here.  8:14AM - They've let us in. Me and one man sitting in a room that seats 1000‪ 8:13AM - A deranged woman wearing an ill...
ON CINEMA PODCAST WEBSITE IS LIVE!!!
SO EXCITED TO INTRODUCE:  oncinemapodcast.com  I will no longer be updating the oncinema tumblr so please bookmark this site! 
RICK SANTORUM MAKES ACTING DEBUT IN ROMANTIC...
FOR IMMEDIATE RELEASE:  RICK SANTORUM MAKES ACTING DEBUT IN ROMANTIC COMEDY "WHAT TO EXPECT WHEN YOU'RE EXPECTING" Fresh from the Campaign trail, Rick Santorum's office confirmed to reporters that late last year he filmed a small but important roll in this Spring's Romantic Comedy "WHAT TO EXPECT WHEN YOU'RE EXPECTING" starring Cameron Diaz and Rob Huebel. The...
ALL THE TIRED HORSES - BY TIM HEIDECKER and THE...
Madonna's Super Bowl Song Leaked. 
DID YOU MISS MY GEORGE BURNS TWEETS?
Cainthology (Songs In the Key of Cain) Released!
LORD CAIN IT'S HERE! NINE SONGS!  http://littlerecordcompany.com/store.html All proceeds go to charity… The VIP Medical Clinics for Abused Children and Community Mental Health Center  visit site
Cain Train Baby Turn your speakers UP for this...
"Lord Cain" someone please make a...
Cain Train Two!  A new song for Hermun.  I...
"Todd Barry Is An Idiot" written by...
Woody Allen Movie Treatment Letter
  (Here is a letter to Academy Award winning director and film humorist Woody Allen.) Woody Allen 140 West 57th Street Suite 4-B New York, NY 10019       Der mr Allen,     I'm sure you get several of these treatments from young writers looking to break into the business but I have an idea that I think you would love to direct*: [[MORE]] The story is about a middle aged man named...
TIM HEIDECKER'S WEEK IN REVIEW....
Depending on how often you check your feed you might have missed huge news or big fun jokes! So I'm going to start a week in review of noteworthy moments… Pretty self explanatory ya dopes.  Patton Oswalt's Toronto Film Festival Guide Patton started this and I contributed a few fake movie synopsis/reviews:  A HOUSE DIVIDED PRESS RELEASE I wrote this phony press release for...
PRESS RELEASE: "A HOUSE DIVIDED" FEATURE FILM
FOR IMMEDIATE RELEASE:    Announcing EMERIL LAGASSE'S "A HOUSE DIVIDED"  Shire Mountain Entertainment is proud to announce the 2012 theatrical film release  of  "A House Divided" a new romantic "dramady" written, directed and starring Celebrity Chef Phenomenon Emeril Lagasse.  The film which centers around a family (The Bensons) going through a rough patch after losing a teenage...
HEIDECKER & WOOD - STARTING FROM NOWHERE →
Taupin Sings John as promised, a live concert...
Interesting Darren Aronosfsky interview regarding...
LEAKED BLACK EYED PEAS SUPER BOWL SONG!  as...
YOGI BEAR INFORMATION PAMPHLET
Last week, @Neil_Hamburger and I spent a drive from Washington DC to Nashville, TN composing tweet after tweet of information about the new Yogi Bear movie.   I am grateful to report that Katie Hendricks (@dr_orangutan) compiled our tweets into an informational pamphlet.  Below is a link to download the PDF of the pamphlet. Please take this file to a printing facility or assemble it yourself at...
BAD BOB DYLAN COVER ART PROJECT
As some of you may know, I am a huge Bob Dylan fan. If you're not, well, I understand, but first you might want to get dumped and listen to "Blood on the Tracks" - then get back to me.      [[MORE]] Dylan's also known for great record covers.  But he's also had some real stinkers (it's often no coincidence that the bad record cover often offer a peek at the...
I WANT MY NAILS REMOVED Please enjoy this new...
The Garry Shandling Movie Poster Project
A few years ago (2006?) while we were deep in the midst of making Tom Goes to the Mayor, myself, Doug Lussenhop and the artists of TGTTM (Kevin Gallegly, Jordan Kim, Chris Shapan) created these movies posters with Gary Shandling puns. I don't remember why. I was just a silly thing to do. [[MORE]] I have long forgotten who did which one, so if you'd like to claim owndership of them,...
LEAKED "THE WHO" SONG FROM...
Dr. Brule Breaking News: For Your Haiti!
For Your Haiti!:  A benefit show for Haiti featuring full episodes of the new Adult Swim series "Check it Out with Dr. Steve Brule" and the new season of "Tim and Eric Awesome Show, Great Job" [[MORE]] Tuesday, January 26th 8pm The Cinefamily 611 N. Fairfax Avenue Los Angeles, California 90036 Map Buy tickets here Be the very first  to see two new episodes...